Golfing in Big Sky, MT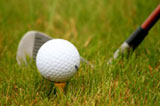 Big Sky offers endless summertime fun to visitors, and golfers are certainly no exception. Montana's unique mountain landscape and glistening streams and ponds provide and an ideal backdrop for a golfing experience like no other. Emerald-green fairways and finely manicured greens are interspersed with miles of untouched meadowland and densely forested mountainside.
Featuring designs by such golf luminaries as Arnold Palmer and Tom Weiskopf, Big Sky is certain to challenge players of all abilities while at the same time provide a rewarding experience. Each course has full clubhouse amenities and pro shops with all of the latest technology so you can get your drives sailing farther than ever.
So if you're looking for a memorable golf outing this summer, be sure to check out the courses in and around Big Sky. The stunning landscapes and pristine mountain setting is sure to bring you back again and again.