Biking in Big Sky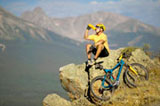 Mountain biking is a popular summer pastime in Big Sky, Montana, and with the miles of picturesque backcountry scenery, diverse wildlife, wildflower-filled meadows, and few human encounters, it's easy to see why. Big Sky Resort is the only destination in the area with downhill trails accessible by chairlift, but the surrounding mountain landscape is etched with hundreds of miles of more casual trails waiting to be explored.
Power up rocky terrain, navigate through dense wooded land, or sail around winding curves in the intermediate to advanced trails at Big Sky Resort. Each track is expertly designed to be both challenging and rewarding with multiple series of jumps, drops, and high berms.
The Big Sky area has trail to accommodate riders of all skill levels. Sports outfitters and retailers can supply all equipment and rentals needed for an enjoyable and safe ride through the densely forested landscape. So give these trails a try, and experience the unique charm of Big Sky's wide outdoors.